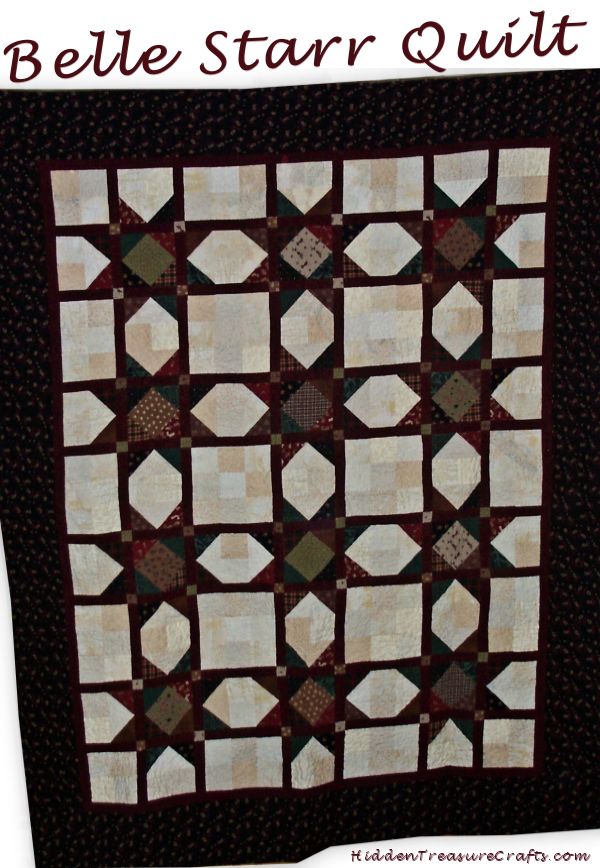 I took a break from posting my quilts for Christmas, and I left off on my #8 quilt, which was made from a deer panel. This quilt was #9.
The name of the quilt pattern is Belle Starr and it can be found in Terry Atkinson's Lessons From Mama
book (affiliate link). I made this on my second quilt retreat at Camp Lebanon, which was in the Fall of 2003!

For this quilt, I did something I had never tried before… I meandered it! Up until this point, I had only hand quilted, tied my quilts, or stitched in the ditch (except for my flying home quilt – I quilted wavy lines on that one). When it was all said and done, I found I really enjoyed meandering.
For some reason, I didn't really like the look of this quilt until it was totally done, and it was one that taught me a hard lesson about pre-washing my fabric.
To this day I very rarely pre-wash my fabric. The main reason for this is because I absolutely hate ironing, and you really have to iron good if you pre-wash. Up until now I never had a problem. I use Shout Color Catcher Sheets
(affiliate link) whenever I wash my quilts, and they have never let me know down.
With this quilt, I did have some problems but it can't all be blamed on not pre-washing the fabric. You see, I learned that you should never leave a quilt sitting in the washing machine — it should be removed immediately. If you leave a wet quilt crumpled up the darker colors will bleed onto the lighter colors, and that is what happened with this quilt.
It was a lesson learned… Or I guess I should say a good reminder because everyone knows you shouldn't leave any laundry sitting in the machine once it is watched. I am just glad this quilt wasn't made with the intention of giving it to someone else!
Disclosure: As noted above, this post contains affiliate links. See my disclosure policy for details.