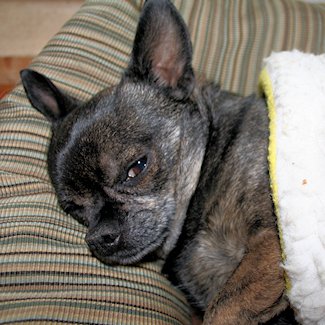 Welcome to my Hidden Treasure crafts and quilts site, where I hope you will discover many hidden gems!
While I have been crafting most of my 47+ years, it wasn't until my kids were little that I started sewing.  Even then, I mainly stuck with sewing doll clothes and Halloween costumes.  Sewing clothing intimidated me and I didn't do it often.
About 12 years ago a friend asked if I wanted to take a quilting class with her. Reluctantly, I said yes and there has been no stopping me since then.  So far, I have made more than 150 quilts. I have saved pictures and descriptions of most of them and I hope to be able to share them here.
Once I started quilted, I have become a lot more comfortable with my sewing machine and have started sewing more that just doll clothes and Halloween costumes.  I really enjoy sewing purses and tote bags and have way too many closets full! Hopefully I will be sharing those with you too.
(Picture here is my sweet chihuahua and sewing companion.  He has his bed on the corner of my sewing table and lays there — um, supervises — while I sew.)