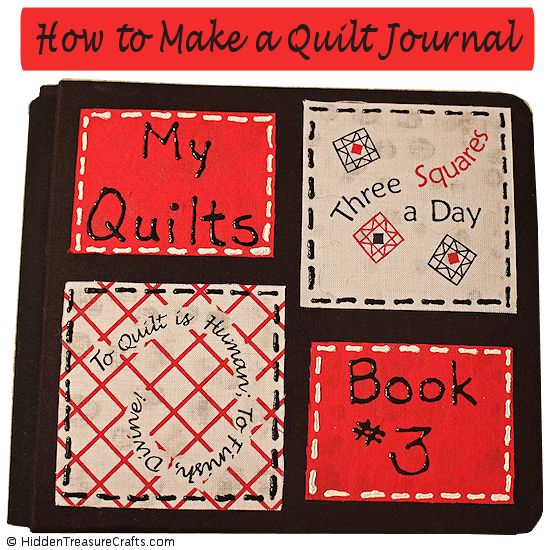 Shortly after I started quilting several years ago, I started keeping a quilt journal. Not only is it a wonderful way to keep a record of every quilt I have made, but it is a fun way to see how far I have come as a quilter! I would highly recommend keeping a journal for anyone who quilts or sews.

At first, I was only taking pictures of my quilts. Then, as a Christmas gift, I was given a book called A Quilter's Journal. This book had spots for you to mount your pictures and there was a ruled area where you could write the name of the quilt, the date you made it, and whatever other information you want to include. I really liked the concept of the formal journal, the book I had didn't have enough spots.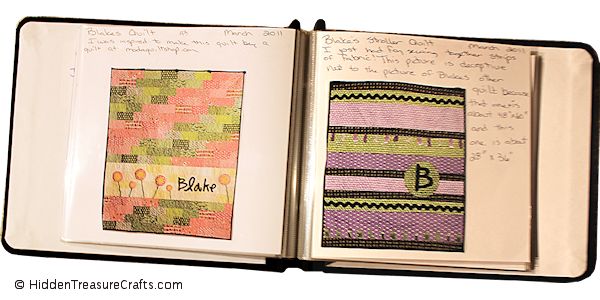 When I filled the first book, I then opted to use a small scrapbook album (the one pictured above) for my next quilt journal. It was a plain black scrapbook and I decorated the front of it using fabric and dimensional paint.  On each blank page inside, I included the name of the pattern I used, the date I made the quilt, and a short description of why I made the quilt; of course I also attached a photo to the page.
When I filled all of the pages of the scrapbook, I was going to buy another scrapbook but then got a better idea. I had recently gotten a few 3-ring binders on clearance for a dollar a piece. I then purchased some plastic page protectors to fill a binder with. I created a simple quilt journal page template and I was in business!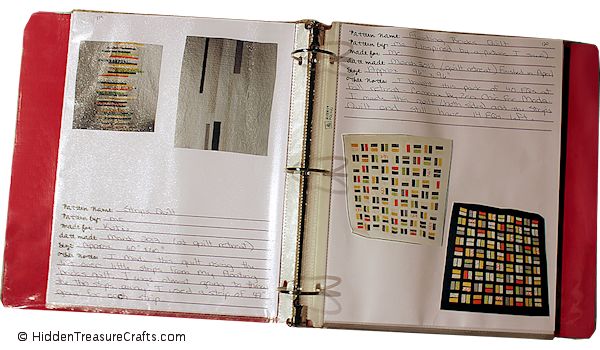 I created two journal pages. One had the spot for the photos on the top and the other had the spot for the photo on the bottom. I did this so that the extra bulk the photos will add will be distributed a little more evenly throughout the book.  On each journal page, I made a spot to write the pattern name and designer, who the quilt was made for, the date the quilt was made, the size of the quilt, and then several blank lines for any other information you want to add.
If you want to make a quilt journal like mine, you can download the templates I created. Download and print out either a PDF or a JPG file and print them out on regular printer paper:
I hope you find these templates useful and have fun making your own quilt journal. I promise, you will not regret it!  It is nice to be able to look back over your creations, and others will enjoy looking through them too.