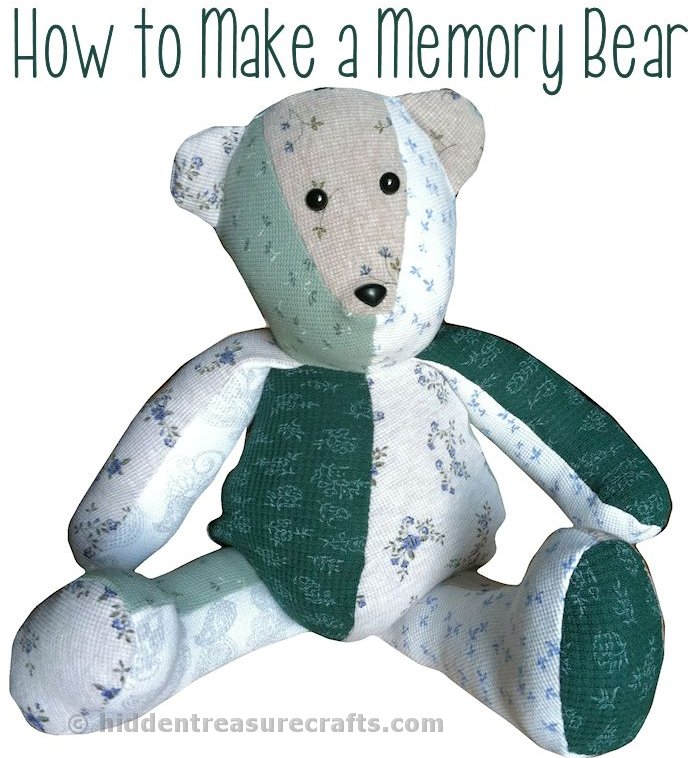 Last year we lost someone very dear to us. My husband's grandmother passed away at 86 years of age. She had a long, happy life and touched everyone who met her. She was such a loving and selfless person with a spunky sense of humor. She will be sorely missed.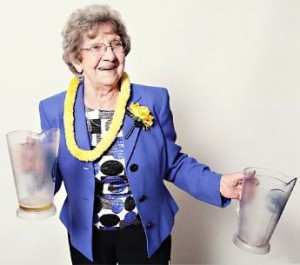 Grandma was an avid sewer (or sewist if you prefer), so I am willing to bet she was tickled pink when I decided to rummage through her clothes to find a variety of items I could use to make special memories bears. I used a lot of items that I knew were her favorite pieces and also some that I recall her wearing for special events. I also tried to find clothes that were made of a variety of different fabrics and textures.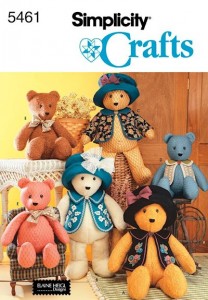 When it came to making the bears, the first thing I had to do was find a pattern. I wanted a fairly easy pattern since my plan was to make 10 bears, and I wanted the bear to be large enough to showcase the different fabrics and would sit unsupported. . I ended up choosing a Simplicity craft pattern (#5461) for a 'classic' 22-inch stuffed bear. While I did have some bear patterns that were simpler, I liked that this one had several pattern pieces because my hope was to use around 5 different fabrics for each bear.
Once I had decided on a pattern, I had to prepare the fabric. I simply cut apart each item along the seams so I could lay them flat. Grandma would have been really proud because any time I ran across something with buttons, I cut the buttons off and saved them for a different project.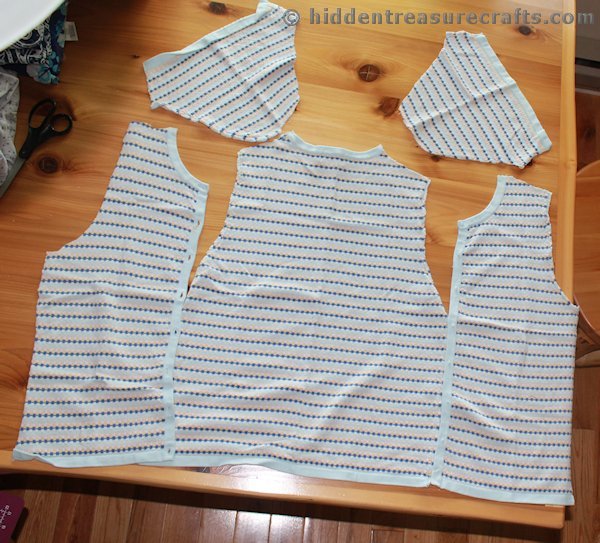 With the different pieces of recycled fabric all ready to go, I chose 5 different fabrics for each bear and then simply followed the directions that came with the pattern to make each bear. The only trick was to make sure the different fabrics were spread out to different parts of the bears. For the eyes and nose, I bought
packages of black safety eyes
and noses from the craft store.
As a finishing touch, I made tags to sew into the back of each bear. I used my favorite graphics program to design the simple tag and then printed them on printer fabric. Cut them twice as big as you want them, fold in half, and press so they look like tags you would find inside garments or on a purchased stuffed animal. Sew in place and that is it!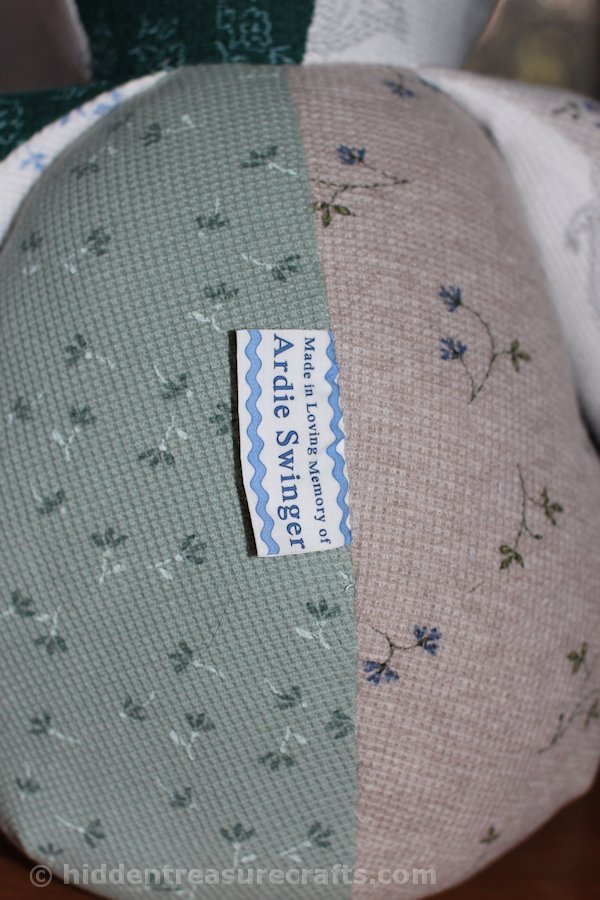 Like I mention previously, I made 10 bears. Grandma had 5 daughters and then another who she was a foster parent to for many years. They were all very happy when they each received one of these bears:
I also made a bear for each one of my three kids.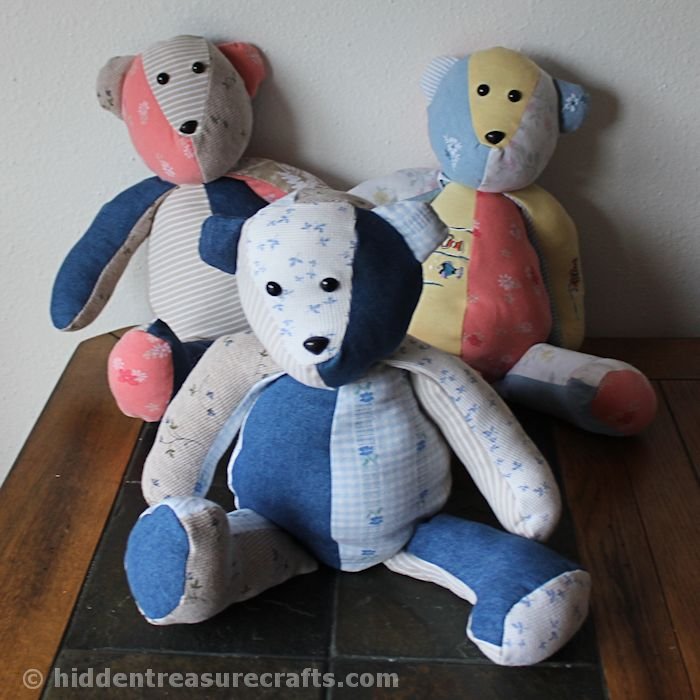 Finally, here is the bear my husband and I proudly display. This was my prototype. Originally I was going to make each bear out of 2-inch squares, but it was so labor intensive I only made one.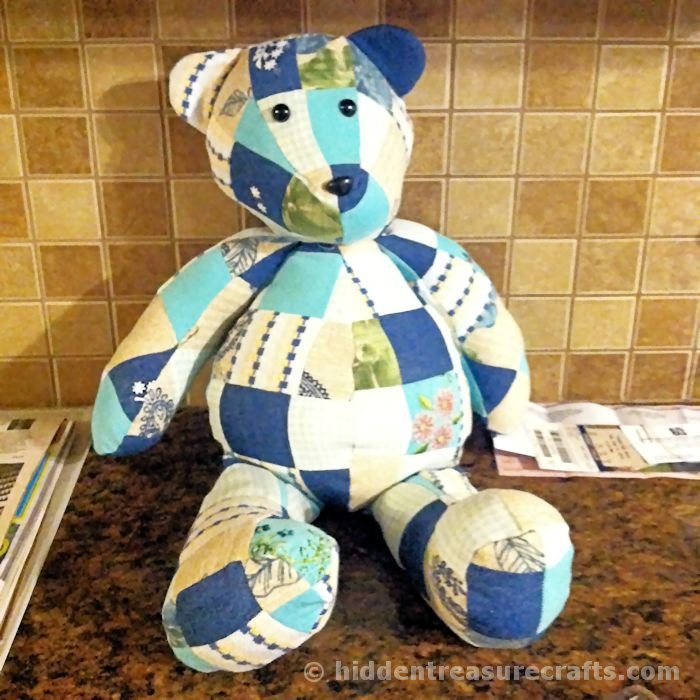 I know grandma would be very pleased that I recycled some of her clothing into these keepsakes, and I know everyone who got one was very pleased. I hope this post inspires you to do something similar if the situation arises. Keep in mind, a memory bear can also be made for happier occasions. For example, it would make a very fun way to use some of your kids favorite clothing after they outgrow it.
Shared as part of Bewitch Me & Titi Party at Titi Crafty, Clever Chicks Blog Hop at The Chicken Chick, Link It Or Lump It Sunday Link Party at Soho Sonnet, Share It Sunday at Denise Designed, A Round Tuit at Creating My way to Success, Craftastic Monday Link Up at Sew Can Do, Inspiration Monday at I Should Be Mopping the Floor, Inspire me Monday at Create With Joy, Mad Skills Monday at Mad in Crafts, Made by You Mondays at Skip to My Lou, Mix It Up Monday at Flour Me With Love, Monday Funday at Uncommon Designs, Motivate Me Monday at Keeping it Simple, Project Inspired at Yesturday on Tuesday, Fluster's Creative Muster Linky Party at Fluster Buster, From Dream to Reality at The DIY Dreamer, Take a Look Tuesday at Sugar Bee Crafts, Tip Me Tuesday at Tip Junkie, Treasure Box Tuesday at Memories by the Mile, Pretty Wednesday Linky Parties at Free Pretty Things for You, Wake Up Wednesday Link Party at A Peek into My Paradise, Whimsey Wednesday at Simply Designing, Wonderful Wednesday Blog Hop at Ducks in a Row, Wow Me Wednesday at Ginger Snap Crafts, Wow Us Wednesday at Savvy Southern Style, Your Whims Wednesday at My Girlish Whims, Catch a Glimpse Party at A Glimpse Inside Blog, Create it Thursday at Lamberts Lately, Moonlight and Mason Jars at The Newlywed Pilgrimage, Pin It Thursday at Sweet Bella Roo, Showcase Your Talent Thursday What's Cooking Love, Inspire Me Wednesday at Seven Thirty Three, Whatever Goes Wednesday at Someday Crafts, Craft Frenzy Friday at Craft Dictator, Friday Pin Fest at A Conquered Mess, Friday Link Party at The Pin Junkie, Life of the Party at The Grant Life.