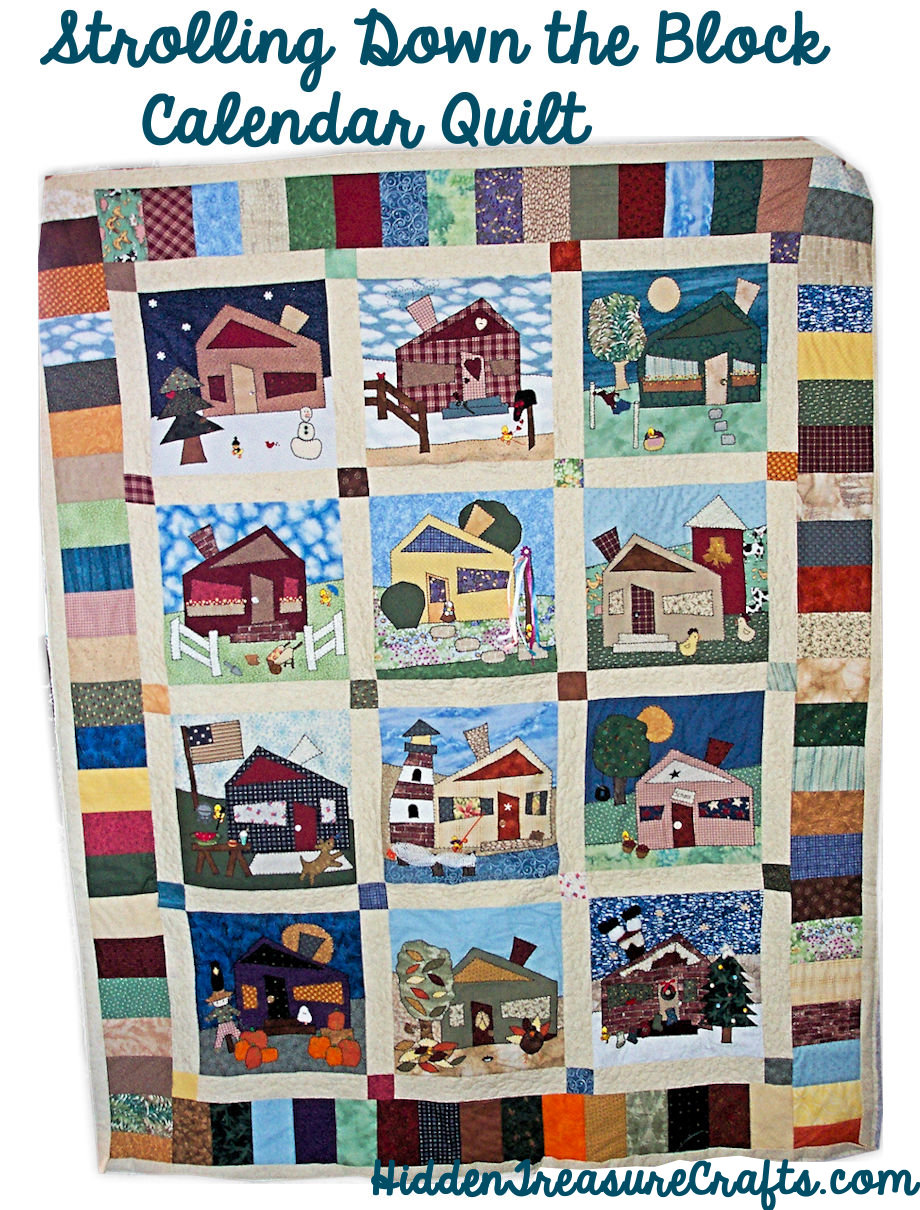 This calendar quilt, named Strolling Down the Block, was the 18th quilt I started working on. I say started working on because I started it in January of 2003 but didn't finish it until the middle of 2004 so I did finish some other quilts before this one was done.

Each block used the same basic house pattern but was embellished to represent a different month (as you can tell by looking at the pictures below). All of the applique work on each block was done by hand. Along with the pattern pieces and embellishment suggestions shared by HGTV (the designers of the pattern), I added my own personal touch to each block.
I added a tiny duck applique to each block. To fit in with the design, each duck applique was personalized to go with the theme of the block. Can you find the duck in each block below? If you click on each row below you can see an even bigger pic.

The top row of the quilt (above) has blocks representing January, February, and March.

The second row featured a spring planting block (for April, a block with a May Pole, and a cute barn theme (for June).

The third row had a block for Independence Day for July, a beachy scene for August, and a back-to-school themed block for September.

The last row had a block for October that features a scarecrow and pumpkins. November's quilt block has a turkey front and center. December's quilt block has a Christmas tree and Santa's feet sticking out of the chimney.
As I stated previously, I found this pattern on the HGTV Web site. While it is no longer live on their site, I was able to find it using the Wayback Machine! Follow this link to see the old page: Strolling Down the Block Calendar Quilt.
When finished, this quilt measured 48-inches x 60-inches. When it came to quilting it, I stitched in the ditch around all of the blocks and then meanedered the sashing to look like cobblestones.