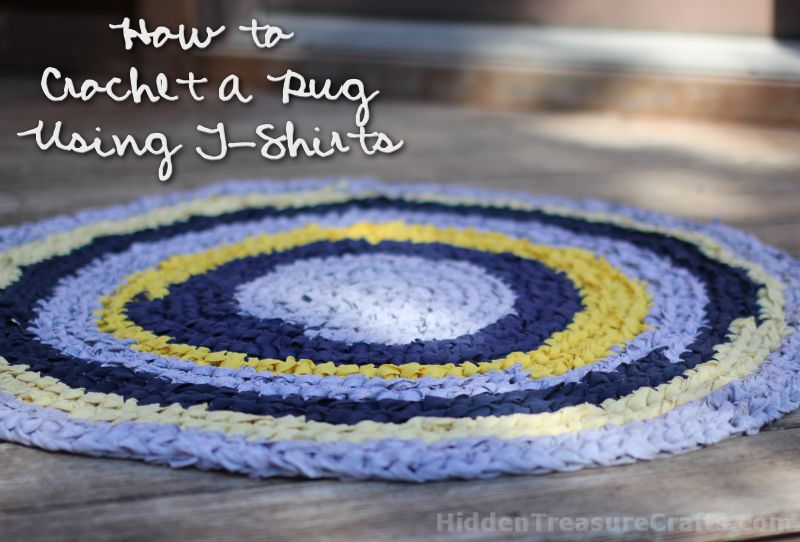 My last post explained how to make t-shirt yarn using old t-shirts. I made this yarn specifically to crochet a t-shirt rug! I will do my best to explain how I made my crochet t-shirt rug so you can try it too.

I think you will be pleasantly surprised at how easy it is. Up until a few years ago, my crochet skills were limited to straight lines… I mainly stuck to crocheting scarves and afghans. I figured crocheting in the round was too complicated — boy was I wrong!
I wanted to try my hand at making a crochet rug after I saw this lovely crochet rug on Five Green Acres (if you click through to her page you can buy her pattern). While I do have plenty of scrap fabric, when I started going through them I didn't have the heart to cut them up. That is when I decided to try it with t-shirts instead of fabric. After all, if I hated it, I wouldn't feel so bad about ruining a bunch of old t-shirts — it would be horrible to waste that much fabric!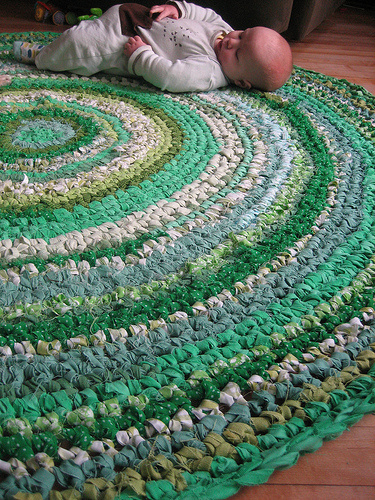 The stitch I used to make this rug was actually the Half Double Crochet. I think that is why there are bigger holes/spaces between my stitches. The other reason there are holes/spaces is the fact that the t-shirt yarn was so stretchy. While this has it's drawbacks, it was nice because at some points the rug wanted to curl up but I could easily stretch it flat again. Next time, I might try making it using a Single Crochet to see if there is a big difference.
I will share the steps I used here, but I will also share links to wonderful tutorials that have better illustrations! I believe I used a Size S Crochet Hook
(affiliate link), and I used t-shirt yarn made from 7 adult-sized t-shirts.
The first thing you need to do is to make a slip knot. Form a loop near the end of the t-shirt yarn. Carefully push the t-shirt yarn up into the loop. (Sorry about the quality of these pics, I was at a point post-surgery where it was hard to work with my camera.)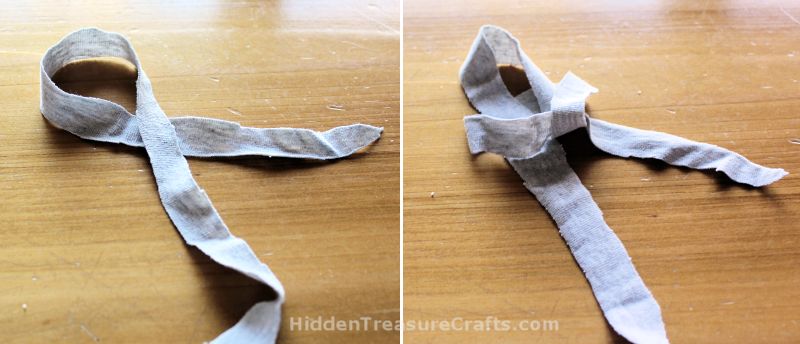 Grab a hold of that loop and gently pulled the ends of the t-shirt yarn to tighten it. Slip the loop onto your crochet hook. (See a video and detailed step-by-step directions for making a slip knot. You will also see how to make make chain stitches when you watch this tutorial — How to Slip Knot and Chain)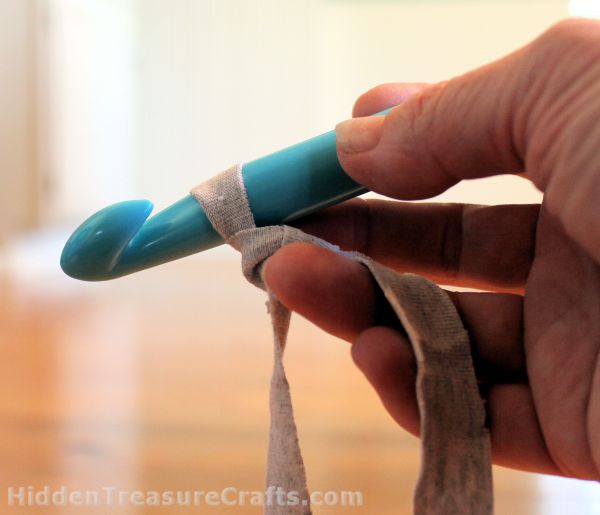 Now you need to chain 6 stitches. To make a chain stitch, wrap the t-shirt yarn around the hook and then pull it through the loop already on the crochet hook.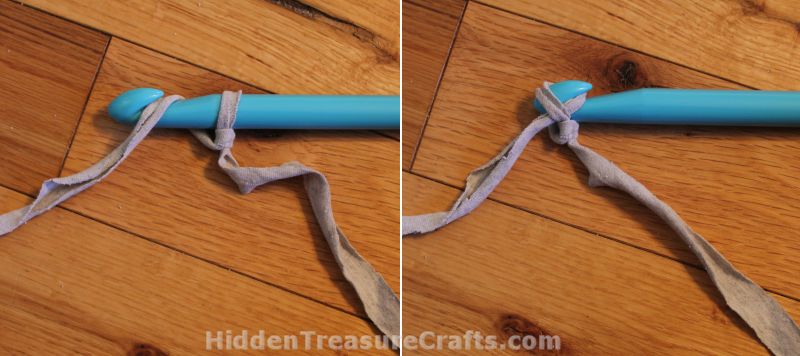 Repeat wrapping and pulling through the loop 6 times. Your finished chain of six should look something like this…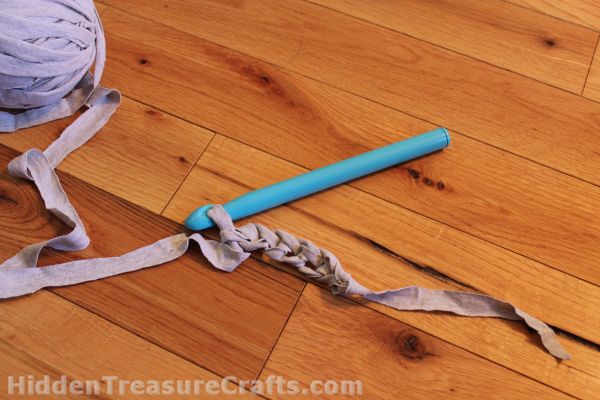 Now, poke the crochet hook through the first chain stitch you made. Wrap the t-shirt yarn around the end of the crochet hook and pull it through both loops on the hook. This will now form a circle.

Now, chain 2. The next step is to go around the circle. I did 2 half double crochet stitches in each chain in the circle. To do a half double crochet, wrap the t-shirt yarn around the crochet hook, push the hook into the next chain stitch. Wrap the t-shirt yarn around the hook and pull that loop through the chain. You should now have 3 loops on the crochet hook. Wrap the t-shirt yarn one more time around the end of the crochet hook and pull it through all 3 loops. (See a video and detailed step-by-step directions for making a half double crochet — How to Half Double Crochet)
Your first half double crochet will look like this…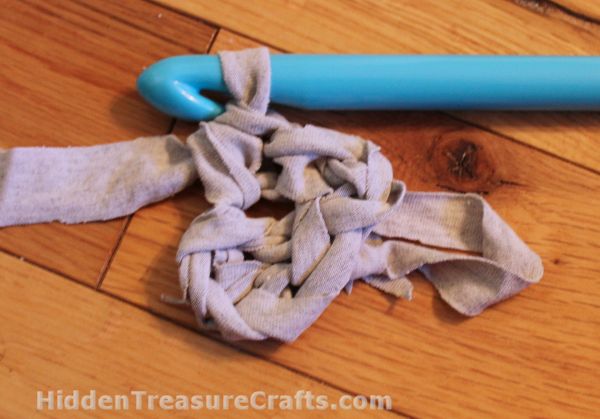 As I already mentioned, I did 2 half double crochets in each chain stitch. Once you go around the circle once, you will poke the crochet hook through the two chains you did at the beginning of the round. Wrap the t-shirt yarn around the the end of the crochet hook and pull it through both loops (this is the same way you initially formed the circle).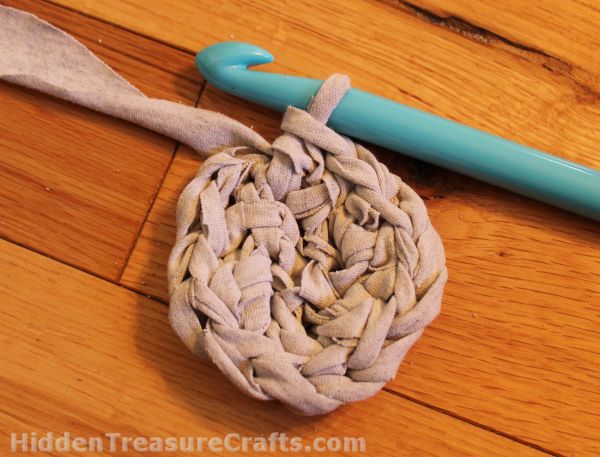 Do the second round the same way you did the first. Start out by chaining 2. You will want to make 2 half double crochet stitches in each of the half double crochet stitches in the first round. Once you get 4 or 5 rounds on your rug, you will want to start decreasing the number of half double crochet stitches you do otherwise your rug can start getting wavy.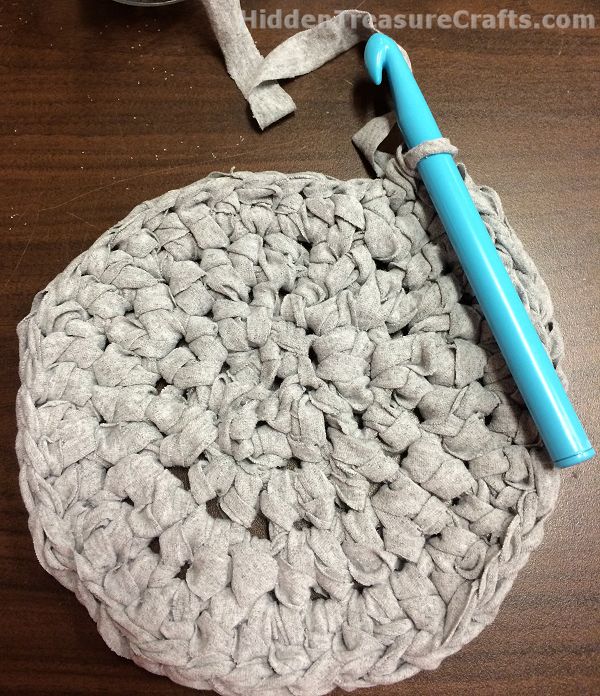 I decreased by doing two half double crochets in every other stitch. If there was still waving, I did once half double crochet in 3 or 4 stitches and then did two in the next stitch. The nice thing about using the bulky t-shirt yarn is that all of the stitches blend nicely.
Obviously I used a gray t-shirt first. I ended up only using about half of this t-shirt before I switched to the next color. Save the rest of this first gray t-shirt for the last round so there is enough to go around twice.
When you need to change colors, simply hold about 3-inches of each end together and work them into the crochet. There is no need to tie a knot.
Continue until the rug is the desired size. If you don't like the way it looks, you can easily pull it apart and try again! This rug is a great way to practice crocheting in the round.
Shared as part of Bewitch Me & Titi Party at Titi Crafty, Clever Chicks Blog Hop at The Chicken Chick, That DIY Party Time at DIY Show Off, DIY Sunday Showcase at Pink When, Happiness is Homemade Link Party from Mommy on Demand, Link and Learn at No Time for Flashcards, Share It Sunday at Denise Designed, Share Your Creativity Link Party from It's Overflowing, The Sunday Showcase at By Stephanie Lynn, A Round Tuit at Creating My way to Success, Busy Monday at A Pinch of Joy, Craftastic Monday Link Up at Sew Can Do, Inspiration Monday at I Should Be Mopping the Floor, Inspire me Monday at Create With Joy, Mad Skills Monday at Mad in Crafts, Made by You Mondays at Skip to My Lou, Mix It Up Monday at Flour Me With Love, Monday Funday at Uncommon Designs, Much Ado About Monday at Huckleberry Love, Inspire Me Mondays at Just Another Mom, Project Inspired at Yesterday on Tuesday, Good Tips Tuesday LinkUp Party at The Gracious Wife, Tip Me Tuesday at Tip Junkie, Totally Talented Tuesdays at Mandy's Recipe Box, Treasure Box Tuesday at Memories by the Mile, Take a Look Tuesday at Sugar Bee Crafts, Too Cute Tuesday at Funky Polka Dot Giraffe, Awesome Things Tuesday Link Party at Artzy Creations, From Dream to Reality at The DIY Dreamer, Fluster's Creative Muster Linky Party at Fluster Buster, Whimsey Wednesday at Simply Designing, Wonderful Wednesday Blog Hop at Ducks in a Row, Wow Me Wednesday at Ginger Snap Crafts, Wow Us Wednesday at Savvy Southern Style, Your Whims Wednesday at My Girlish Whims, A Little Bird Told Me at The Life of Jennifer Dawn, A Little R & R Wednesday at A Little R & R, Moonlight and Mason Jars at Cherished Bliss, The Wednesday Roundup at The Crafty Wife, Crafty and Delicious Party at Grace and Good Eats, Create it Thursday at Lamberts Lately, Live Laugh Linky at Live Laugh Rowe, Showcase Your Talent Thursday What's Cooking Love, Thursday Link Party at Mila's Little Things, SHINE Blog Hop at The Deliberate Mom.
Disclosure: As noted above, this post contains affiliate links. See my disclosure policy for details.