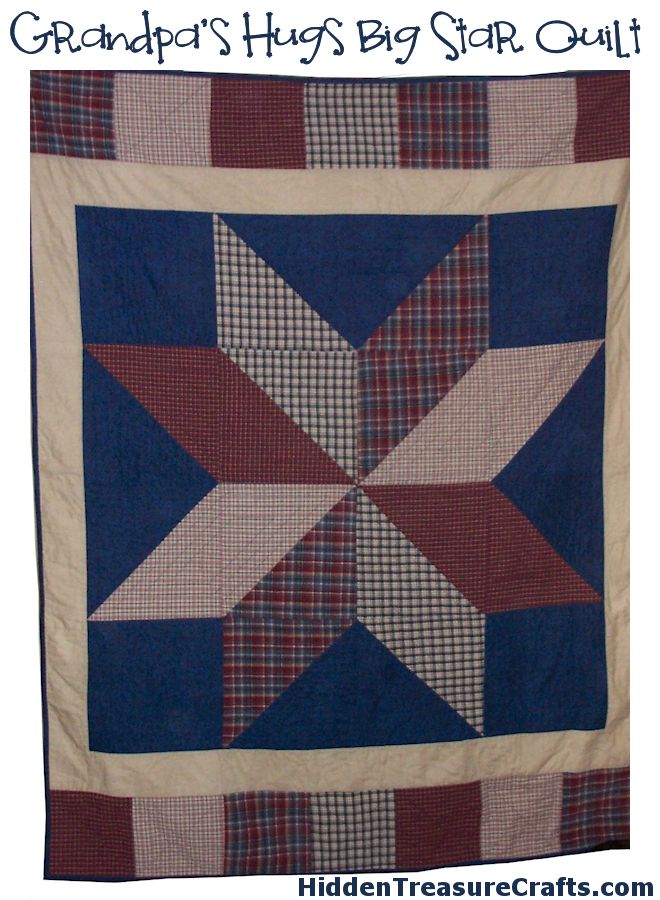 For those who are following along with my quilt count, we are now onto my 5th quilt… 🙂
I made this quilt at my first ever quilt retreat at Camp Lebanon. That was in November of 2002 and I have now attended more than 20 retreats since then.
This quilt was sort of a happy mistake. During each quilt retreat, the instructors pick 2 or 3 quilts to teach and we thought this Big Star Quilt Pattern (from Country Threads) was one of them. I went shopping and found fabrics I loved and then we found out it was a different pattern (Kaleidoscope from Cranberry Cupboard which I made at that same retreat – you can find that one posted here).
We decided we still wanted to make this star quilt; after all, we were staying at Camp Lebanon for 4 1/2 days. Lucky for us, it really is a simple pattern with big blocks. The main reason I wanted to still make this quilt was that the fabric I bought for it reminded me of my grandpa… They all looked like the fabric used for comfy flannel shirts, which he wore all of the time!
This is still one of my favorite quilts of all times. I call it grandpa's hugs. I wrap myself in it and picture grandpa giving me a hug. The finished size of this quilt is 56″ x 72″ so it is perfect to use as a lap quilt.
I quilted this star quilt on my $99 Brother sewing machine. I stitched in the ditch first, but that wasn't nearly enough so I ended up then measuring an inch out from each ditch, marking those lines and then stitched those lines. I then measured in another inch and stitched… I continued until I ran out of space. If you look closely at the lighter colored fabric in the picture above, you can see the quilting lines.
So now, I have made a quilt in honor of my grandpa and a quilt for my husband's grandmother (that was my 3rd quilt)!