While I have been jumping around a little bit, I am trying to post my quilts in the order that I made them (somewhat)…  This was the 3rd quilt I made (in case you missed them, the first one was a Simple Rail Fence and the second was a super-hard quilt called Flying Home).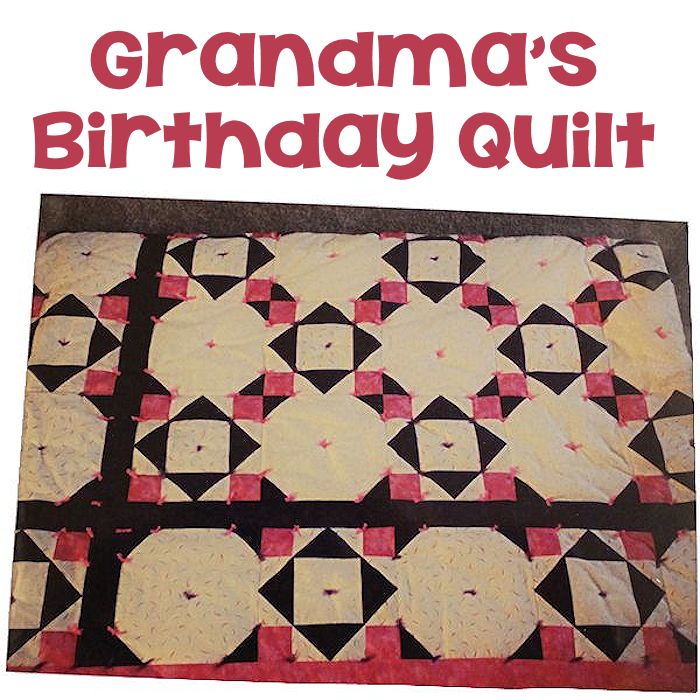 Remember the memory bears I posted about awhile back? They were made from grandma's clothes. It was that grandma I made this quilt for. She seemed so excited when I started quilted I immediately wanted to make something for her so I chose this quilt and worked hard on it to get it done in time to be a birthday gift.

Unfortunately, when I made this quilt, I wasn't keeping track of my quilts so I don't have a lot of details about it.  It is hard to tell in this picture, but the cream fabric has little images of hats and shoes on them and the little bit of color in the hats and shoes matches the pinks and purples I used.
I created two different blocks. The first is a classic snowball quilt block (you can find directions for this simple block in this tutorial on Craftsy). I am sure I found the other block in a quilt block book I used to have. While I am not 100% sure of the name of the block, this radiating diamonds quilt block posted Bitter Sweet looks to be the same.
I was not yet real comfortable with machine quilting, so for this quilt I opted for tying. I chose pink and purple yarn that matched the fabric.
I think back on this quilt and am almost embarrassed that I gave it as a gift as I wasn't very good. Of course, grandma didn't mind at all. I even made her a matching set of pillows for Christmas the same year (2002).