In my last post, I shared some fabric I had found and fell in love with (Comma Fabric by Zen Chic). I also shared two brick block quilt tops I made using the fabric. If you read through this post, you might remember that I only used 25 of the 40 fat quarters that came in the bundle. My daughter had fallen in love with a strip quilt she saw on Pinterest so I decided to try making a similar one for her.
While I had plenty of fat quarters left to make this Comma Zen strip quilt, and that was my original plan, I actually made this quilt mainly using scraps from brick quilt tops. I did, however, cut a few strips from each of the leftover fat quarters, but I had enough fabric left for even one more quilt top.

Once I cut as many 3 1/4-inch x 22-inch strips for the brick blocks as I could from each fat quarter, I ended up with a strip that was about 2-inches x 22-inches. That is how I decided how thick to make each strip on this quilt. I used 48 colored fabric strips.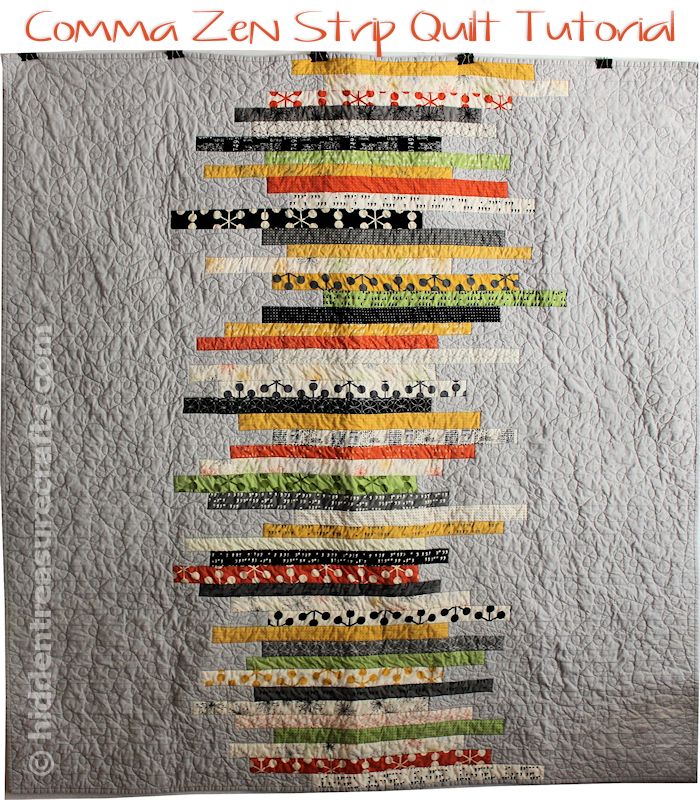 To go along with the colored strips, I cut 48 light gray strips. These were 2-inches wide x WOF (width of fabric). The gray fabric was about 44-inches wide.
To sew the strips together, I grabbed one color strip and one gray strip, I cut the gray strip into two pieces. I didn't measure, I just used a pair of scissors to cut it. I wanted it to be random. I then stitched one of the 2 1/2-inch sides of each gray piece to each side of the colored strip (making sure to sew them RST (right sides together).
I continued this, cutting the gray fabric to random lengths and sewing them to the colored strips, until I had used all of them. I then randomly stitched all of the strips together. Once they were all together, I did have to square up the side edges a little bit.
When it came to the back of this quilt,  I didn't want to just use a plain piece of fabric… After all, the Comma Brick quilt was reversible! I remembered another pattern I had seen on Pinterest and looked it up.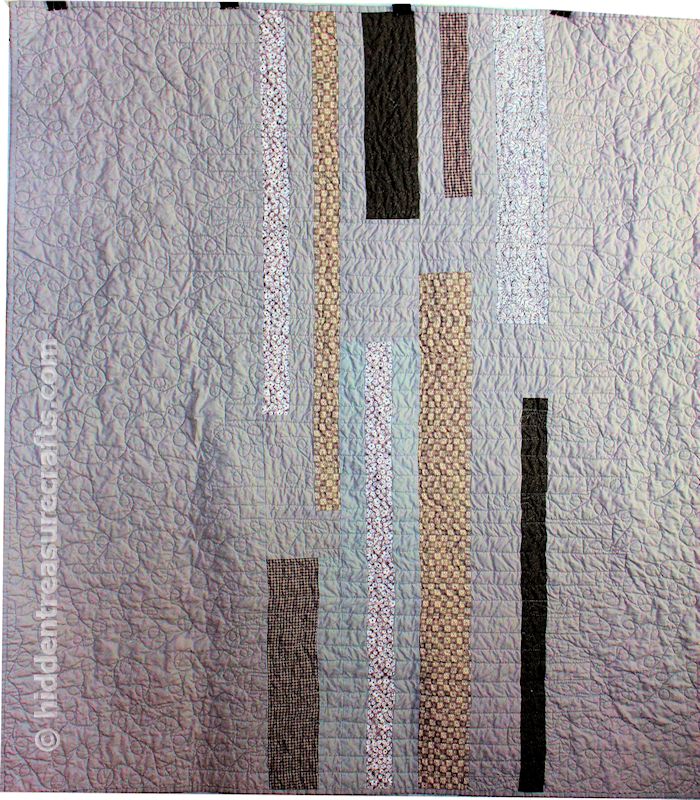 This pattern was called Linen Inlay (coincidentally created by Zen Chic) and I pulled up the picture and used it as inspiration to piece the back of my strip quilt.
When it came time to quilt this, I knew exactly was I was going to do! I stitched in the ditch around each colored strip in the center of the front of the quilt. I then used a looping freehand stitch in all of the gray. You can see the details of this best on the back of the quilt.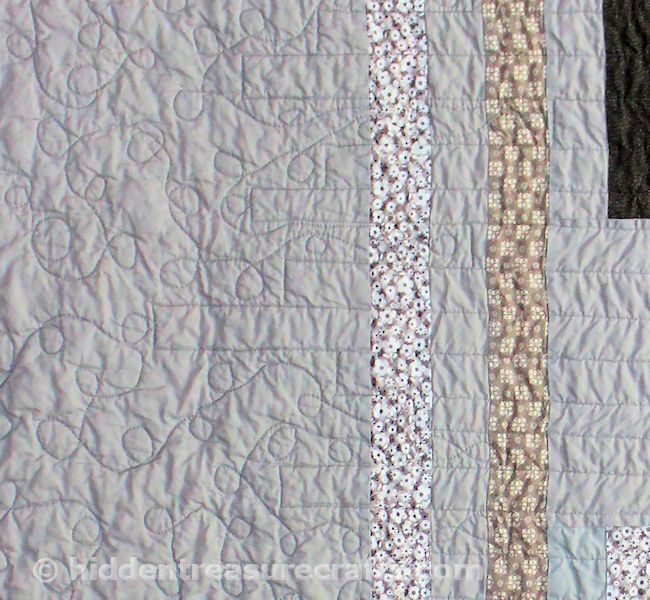 I was so pleased with how this quilt turned out and my daughter absolutely loved it! What do you think of it?