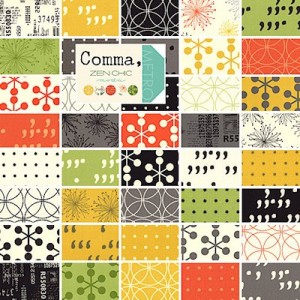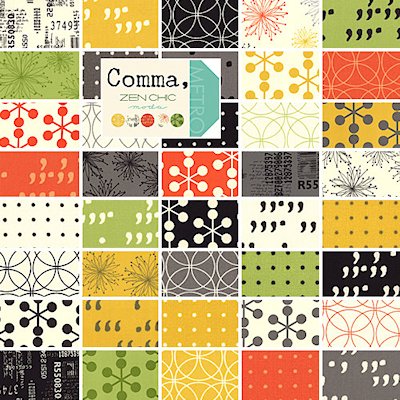 Are you a fabric shopper like I am? It seems like when I am out shopping for something specific, I can never find what I want, so when I do see something that calls to me, I usually buy it. That is how I have ended up with a cupboard full of fabric packs and quilt kits.
This happened to make a couple years ago when I was at quilt retreat. The shop that was teaching the classes had brought half of their store with them, including some delicious fabric bundles that had just bought at quilt market. The fabric bundle I fell in love with was called Comma by Zen Chic (Moda).

I debated with myself for just a little while about buying it; after all, the bundle included 40 fat quarters. That is a lot of fabric when you don't have a plan for it. It didn't take very long for me to decide to buy it. I promised myself I would get to work immediately to find patterns to make using it. It was November 2012 when I bought this fat quarter collection, and my plan was to bring them back and use them at the spring quilt retreat (March 2013).
I set about searching online for some inspiration. I had my work cut out for me because it was hard to find quilts made using this fabric. It still was not available at retail stores (I was lucky my quilt shop bought it at Market) so very few people had an opportunity to use it.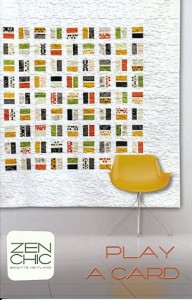 Finally, I found something I liked… The pattern was called Play a Card designed by, surprisingly, Zen Chic. I suppose it was easy for me to visualize my fabric in this quilt considering that is what the pattern was made using!
While I was happy to find this pattern and knew it was something I wanted to do with my fabric, I did not buy it. Why? Because I am a rebel…
I try to avoid buying patterns if it is possible. It is not because I am cheap, it is because I like a challenge. Using the above pattern picture as inspiration, I pulled out my graph paper and colored pencils and got to work.  (I love graph paper and look for any excuse to use it.)
As you can tell, I stayed fairly true to that design… Here is what I came up with (sorry for the wonky picture):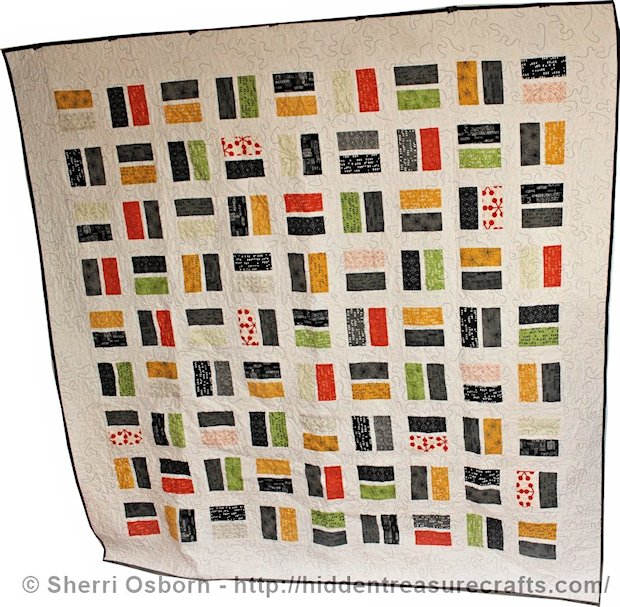 Basically, I cut the fat quarters into strips at were 3 1/4-inches wide and 22-inches long.  I used 25 of the fat quarters that came in the bundle and I cut 5 strips from each fat quarter. Make sure you save the scrap strip from each fat quart if you want to make my Comma Strip Quilt (I will post that next). That strip will be approximately 1 1/2- to 2-inches wide and 22-inches long.
I also cut strips of fabric that will be the sashing between the blocks. These strips were 1 1/4-inches wide by 22-inches long. I sewed a Comma strip to either side of the ashing strips, pressed them, and then cut them into blocks at were 6 1/2 squares.
I sewed them all together, using a 3 1/4-inch wide piece of background fabric as sashing between each block. I used the plain background fabric to cut border pieces that were 6 1/2-inches wide.
Technically, if you were only making the white quilt top above, you would only need to cut about half as many Comma strips; however, I could not make up my mind whether I wanted my Comma Brick Quilt to have a white or black background…  So, I ended up making both: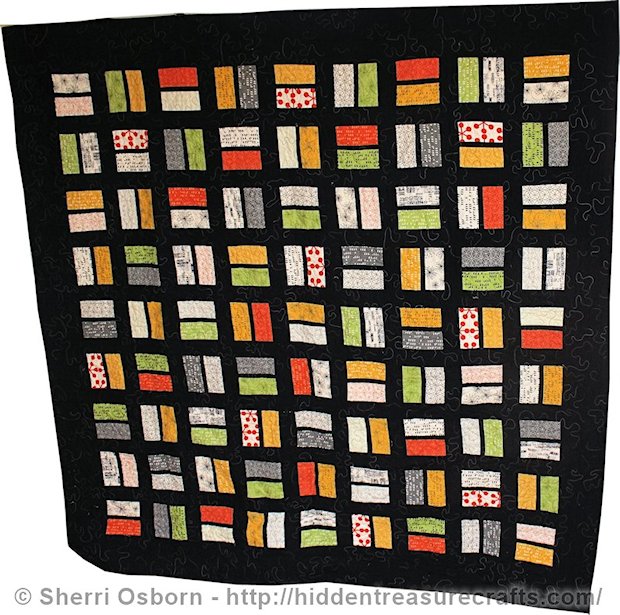 My original thought with these two quilt tops was that they would be his and her quilts for my husband and I. We have a king size bed and never seem to be able to share a blanket. This way we could each have our own quilts.
The more I thought about it though, the more I thought it would be fun to use both of them in one completed quilt. It would be a reversible quilt, with a quilt top on each side. The trickiest part of this was preparing it to be quilted.
Usually, when I quilt anything, the backing and batting are larger than the top so there is plenty of room to play with. With this project, I had to try to line up the edges of the front and back while I sandwiched and pinned it.
When it came to the quilting, I was originally planning on stitching in the ditch around the blocks, but now that I had blocks on both sides I knew it would be impossible to stay in the ditches on both sides. I ended up meandering around he entire quilt using variegated black and white thread. The finished size is about 96-inches x 96-inches.
This is one of my favorite quilts to date. What do you think? The only problem is that we still only have one quilt on our bed instead of two matching ones. I will remedy this when I use the rest of my Comma fat quarters and the scraps. (I was going to post all of the quilts I made from this fabric bundle in one post but the page would have been too long! I will link them all together once they are all posted)