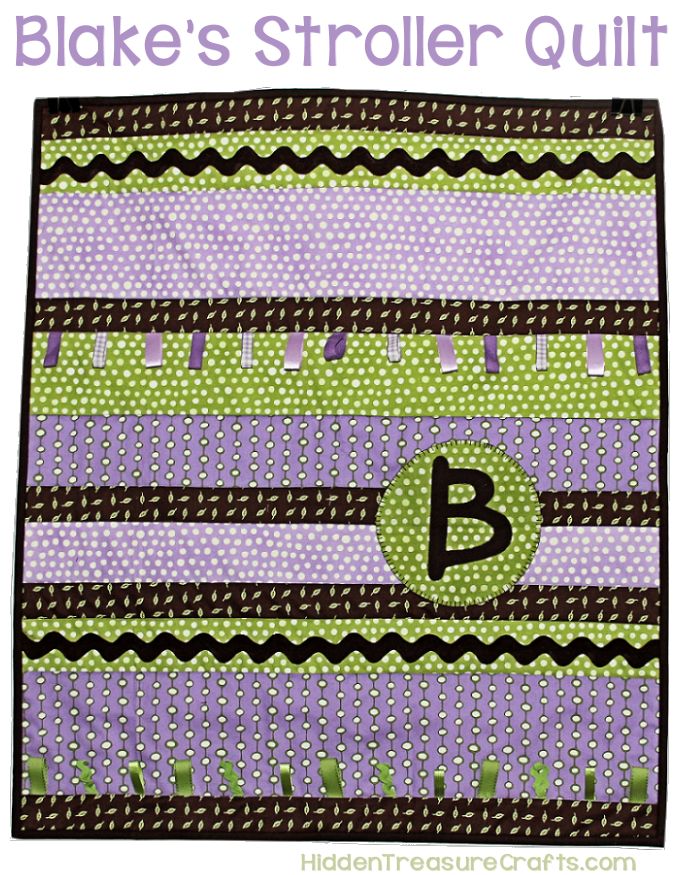 When I was initially picking out fabrics for Blake's baby quilt (before I had decided on the pattern) I was buying pink and green, along with a few purple fabrics that were too adorable. While I used the pink and green fabrics in Blake's crib-sized baby quilt, I was left not quite knowing what to do with the purples. That is when I came up with the idea for this simple stroller quilt.

This quilt is much smaller than her crib quilt. While that one was about 48″ x 60″, this one measures approximately 28″ x 36″. It is the perfect size for draping over a baby in a stroller or a car seat.
I didn't drawn out this quilt pattern first. All I did to make it was to cut strips of fabric that were 28-inches long. I kept cutting and laying the strips next to each other until I liked how it looked. For a little extra detail, I added ribbon loops and a piece of extra large rick-rack.
Like with Blake's crib quilt, I wanted to personalize it, so I added her initial! I think it turned out perfect! What do you think?