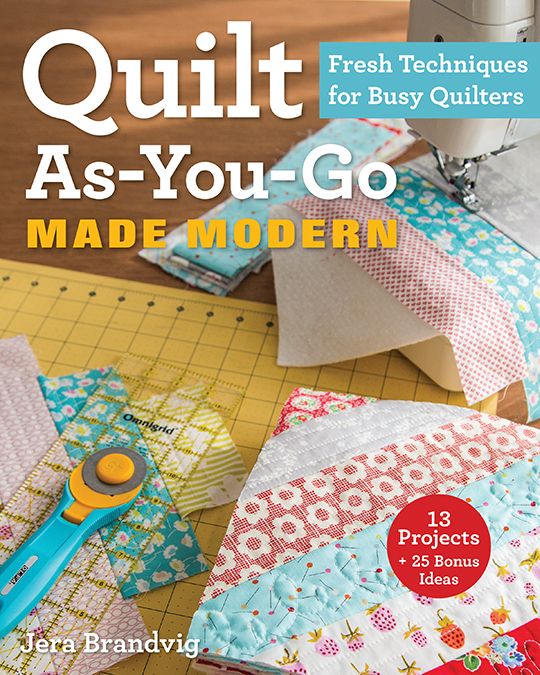 I will admit I have checked out some patterns and even bought a different book that teaches the quilt as you go method. Every time I pick it up to try it, I change my mind. Quilt As-You-Go Made Modern: Fresh Techniques for Busy Quilters
(affiliate link) just might change that…

On the first page of this book the author, Jera Brandvig, says to "break free from following the rules and embrace your inner creativity to make a one-of-a-kind quilt." This alone made me rethink my reluctance to try making one of these quilts. I realized that the main reason I have shied away from try one of these quilt-as-you-go projects is mainly the fact that it does seem to break the rules.
While this book is chock full of great information, the first thing I did was flip to the projects. There are 12 unique projects. The great thing about these projects are that they really are quite versatile. There are patterns for making large and small quilts along with a table runner and pillow shams. You can use the directions and blocks made from any of these projects to create your own unique creations.
As I mentioned, the author provides plenty of other material in this book. Besides her introduction, she shares a wealth of information to help you get started making your first quilt and also great advice for finishing it. She does a great job explaining what quilt as-you-go is and some advantages of using this method. She goes through the supplies you will need and and shares tips about working with batting and planning your quilt size.
When it comes to learning the basics of quilting as-you-go, you will find an entire chapter dedicated to it. IN this chapter you will find step-by-step directions and photos that teach you how to make a log-cabin style block, how to square up a block once it is made, and how to put all of the blocks together. The author shares four simple quilt as-you-go guidelines to help make sure you are successful every time. She also shares 3 pages of quilting designs you can try.
If you enjoy making quilt tops, but the idea of quilting a large quilt yourself intimidates you, I recommend giving quilt as-you-go a try. Instead of quilting a large top, you are quilting each individual block. It is so much easier to handle that trying to create designs by maneuvering a larger quilt top in your home machine. Even if you aren't nervous about doing your own quilting, you may enjoy breaking some of the rules to create a work of art.
Disclosure: A review copy of this book was provided by the publisher. No further compensation was given and all opinions are my own. As noted above, this post contain an affiliate link. See my disclosure policy for details.