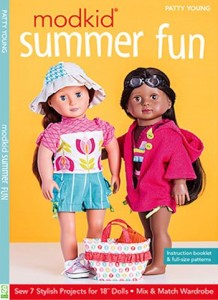 I couldn't have been more pleased when MODKID Summer Fun: Sew 7 Stylish Projects for 18″ Dolls
(affiliate link) landed on my door step. Not only do I love sewing, my grand daughter is just getting into the 18″ dolls. Plus, when I first started sewing, it was to make doll clothes to sell.
Patty Young, author and designer, has created a collection of fun fashions any doll would love to wear and any little girl would be excited to have someone make for them. You can make stylish doll outfits for camping trips, sleepovers, and even a trip to the beach.

Packaged in a handy storage envelope, you will find all of the pattern pieces you need along with an instruction booklet. The pattern pieces are all full-sized and clearly marked. The pattern pieces can be kept in the envelope when you aren't using them and the envelope should fit nicely on a book shelf with your other crafty titles.
The instruction booklet can also be stored inside the envelope. Inside the booklet you will find, well, instructions! They are well-written and easy to follow. You will also find plenty of colorful illustrations and photos to help you understand each step in the instructions better.
There are 7 projects in this booklet. You can make a pair of fancy cargo shorts with gusseted pockets and a matching t-shirt with ruched sleeves. Your doll will be fashionable on the beach with a homemade swimsuit, cover-up, and reversible sun hat. You can also make a beach bag to match all of her outfits and a sleeping bag and pillow for sleepovers and camping trips.
What else could any fashion-conscious doll want? If you know a little girl who would love to have some fashionable summer outfits and accessories for her 18″ dolls, you might want to check out this title.
Disclosure: A review copy of this book was provided by the publisher. No further compensation was given and all opinions are my own. As noted above, this post contains an affiliate link. See my disclosure policy for details.