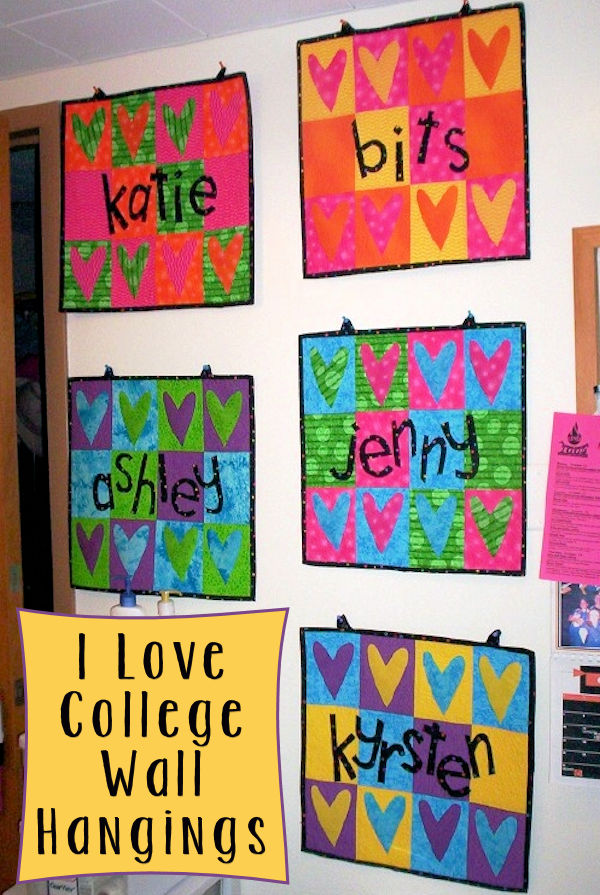 Perhaps I was a little too excited when my daughter (my oldest child) went to college… I made these wall hangings for her and her friends and dorm mates so they could decorate and personalize the hallway outside of their dorm rooms.

When I started this project, my intention was to make 2 wall hangings – one for my daughter, Katie, and one for her roommate, Kyrsten. They were so fun and easy to make, I actually ended up making 5! Two more for Katie's suite-mates, Ashley and Bits, and another for an "adopted" roommate named Jenny.
For those keeping track, this was my 17th quilting project made in September 2004. I found a quilt in the December 2003 issue of B H & G Quilting Ideas magazine. It was actually a Valentine's Day themed quilt titled Hugs and Kisses. I discovered that this quilt pattern is now posted online, under a different name: Hearts and Flowers free quilt pattern.
The finished size of these wall hangings were approximately 26 x 24. Once there were pieced and appliqued, I meandered them on my home sewing machine.