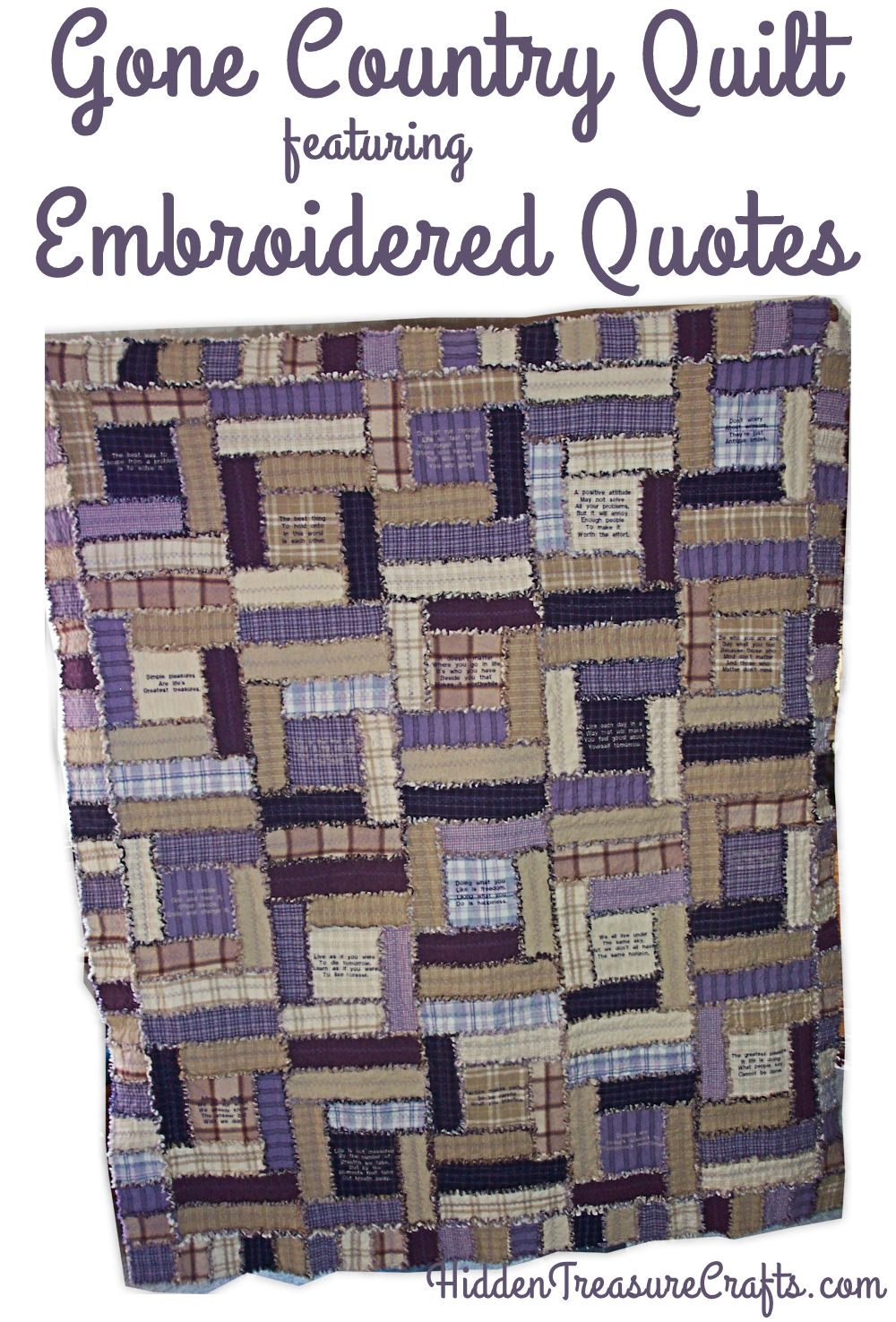 Let me introduce you to my quilt number 19. This fabric was actually posted as a kit with another pattern. I bought it because I loved the fabric, but not necessarily the pattern so I was very happy when I found the Gone Country quilt pattern in an Issue of Quilting and Embroidery magazine.

Sorry, I am not sure what issue it was, but considering this quilt was made in September 2004, it was an issue out before then! My best guess would be an addition from early 2004 or 2003.
The embroidered blocks in the pattern in the magazine actually featured country-inspired blocks, but I decided to change it up a little bit. I embroidered a quote into each square. Some of the quotes were inspirational and sme were a bit silly:
The best way to escape from a problem is to solve it.

Do not run through life so fast that you forget not only where you have been but also where you are going.

Don't worry about wrinkles, they're just antique smiles.

A positive attitude may not solve all your problems, but it will annoy enough people to make it worth the effort.

The best thing to hold onto in this world is each other.

Simple pleasures are life's greatest treasures.

It doesn't matter where you go in life. it's who you have beside you that makes it worthwhile.

Be who you are and say what you feel because those who mind don't matter and those who matter don't mind.

Live each day in a way that will make you feel good about yourself tomorrow.

Life in the first gift, love is the second, and understanding is the third.

Some people grin and bear it, other people smile and change it.

Doing what you like is freedom, liking what you do is happiness.

An apology is a good way to have the last word.

We all live under the same sky.but we don't have the same horizon.

Live as if you were to die tomorrow, learn as if you were to live forever.

Advice is what we ask for when we already know the answer but wish we didn't.

Practice makes perfect, so be careful what you practice.

The greatest pleasure in life is doing what people say cannot be done.

Dreams are today's answers to tomorrow's questions.

Life is not measured by the number of breaths we take but by the moments that take our breath away.
What do you think of the quotes I picked?
This lap sized, rag quilt is actually my car quilt. I keep it in my vehicle in case a need for it arises!